Whether you are looking for the perfect pair to call your own, or shopping for a loved one, the right glasses are all about comfort, function, and reliability. Selecting the best pair of eyeglasses is the first step after a recent eye exam. Let's discuss what is most important when considering which lenses and frames make sense for you!
Finding Your Frame
Comfort is obviously a priority if you will be wearing glasses on a consistent basis. But you also want your eyeglass frames to hold up to the activities of your daily life. A vision care professional can help with specific frame adjustments, but here are some indicators of a great frame fit:
Eyes Align with the Center of the Lens
The center of your pupils should align with the center of the eyeglass lens. This can best be accomplished by selecting a frame that matches your pupillary distance (the space between your eyes). A comprehensive eye exam will provide this measurement. Making sure your pupils are centered with your eyeglasses will help reduce strain and visual fatigue.
No Pressure on the Nose
Find a pair of eyeglasses that feel totally comfortable on the bridge of your nose. The nose pads or frame should never dig in or leave impressions after wearing. The bridge of your eyeglasses (the piece between the lenses) should never slide down away from your eyes. When it comes to the right choice of glasses frames, the nose knows.
Trust the Temples
Temples are the "arms" of a pair of glasses. You want the temples to extend all the way back and rest on your ears. The feel should be snug, but not tight. Frames that are too tight can cause headaches and other mild pain over time.
Size Matters Can we come up with a new subheader?
Make sure your new glasses are the right size for your face. Ideally, the frames will extend just past your cheekbones without the temples pinching at the outside of your eyes. This ensures ample coverage for peripheral vision and that your eyes can stay focused when looking in multiple directions.
Overall, the size and fit of your eyeglass frames should feel balanced and in place during any normal daily activity.
Love Your Lenses
Eyeglass lenses are the window to your world. Choosing the right type of lens and the most appropriate lens coating will ensure satisfaction. For many, a single vision lens with a uniform prescription does the trick. But other types of lenses can help people with more complicated prescriptions.
Lens Types
Lens Coatings
UV Protection Coating can block nearly 100% of harmful rays that will damage your eyes over time. Studies have shown that prolonged exposure to UV rays in the eyes can lead to significant damage.
Constant exposure to digital devices is made safer with Blue Light Lenses that block specific lightwaves. Great for people that spend a lot of time in front of a screen.
Anti-Reflective finish on a lens will reduce glare for the wearer. This coating also provides a more aesthetic and clear appearance for people with high-index prescriptions.
Scratch Resistant coating is perfect if you live a high impact lifestyle. Lens scratches will blur vision, but can be prevented with this common lens coating. Great for kids!
The advent of Anti-Fog lenses has never been more important than now. As wearing masks becomes normal, this coating will reduce fog on the lenses and prevent condensation from forming. More and more options are becoming available with an anti-fog coating.
Compliment Your Lifestyle
Ask yourself, "When will I be wearing my glasses, and what will I be doing?" The answer will help you decide what to prioritize when purchasing new eyewear. Your day-to-day routine is a big indicator of what type of glasses are best for you. With today's modern technology, there are options for almost any niche lifestyle. Consider the following questions.
Do you spend a lot of time in front of a computer?
As digital devices become a bigger part of our lives, it is very important to protect yourself from digital eye strain (or computer vision syndrome). This is the feeling of visual discomfort people experience after extended time viewing digital screens. Specialty anti-reflective lenses, or blue light blocking lenses are the perfect choice if your eyes feel tired or dry after staring at a computer screen.
Dry eye treatment can be used in complement with the right glasses to help prevent digital eye strain.
Are you constantly moving between indoor and outdoor spaces?
All eyeglass wearers know how annoying it can be swapping sunglasses and indoor glasses as you move about your day. Photochromic lenses make perfect sense if your daily routine takes you to areas with different levels of light.
Are you a very active person?
Vision is an essential part of successful sports performance. The right eyewear will improve your abilities and keep your eyes safe. There are many specialty eyewear choices that are designed to be durable and help you excel. Some examples include:
Sports Glasses for basketball, football, baseball, hockey, racquet sports, golf, & skateboarding.
Water Goggles & Masks for swimming, snorkelling, scuba diving, & surfing.
Protective Eyewear for shooting, hunting, & motor sports.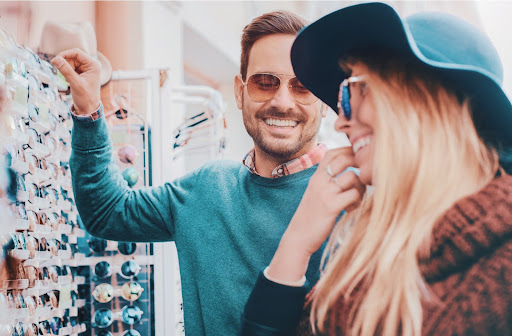 Fit Your Fashion
Different Faces, Different Frames
Choose a pair of glasses that compliment your face type and accentuate your best features. There are five generally accepted face shapes: round, square, diamond, oval, heart, and rectangle. Now of course you could be a combination of any of these, or a hybrid of two, but here is a guide to help determine general face shapes. A vision care professional can work with you in finding a frame style that best suits your face shape, skin tone, and eye color.
With so many different styles available today, there is a solution for everyone. Find the frames that make you feel beautiful and confident!
Make It Personal
Chances are you will be wearing your glasses daily or weekly, so wear a pair that connect with your own personality. If you spend lots of time outdoors in the sun, it could be wise to purchase prescription sunglasses that will fully block UV rays. If you wear glasses while running or cycling, choose durable eyewear that makes those activities comfortable. Your glasses should be an extension of yourself!
Choosing the right glasses is all about combining the latest in eyeglass technology with your personal preferences and lifestyle needs. Glasses can transform your look, while improving vision and eye health. Why not look better, while you feel better, and see better?