When looking for an eye care professional, you may come across a few different types of practitioners. They differ in terms of education, scope of practice, and services provided.
Regular eye care is essential for maintaining your vision and eye health, from your annual eye exams to specialty eye care. To help you take care of your eyes, you must select the right eye care provider for your needs.
To be able to do that, you will need to understand the distinction between an optometrist and an ophthalmologist. This blog is here to help!
What's an Optometrist?
Optometrists are eye doctors who have earned a Doctor of Optometry (OD) degree. They are trained to diagnose refractive errors such as myopia, hyperopia, and astigmatism and to prescribe corrective lenses such as eyeglasses and contact lenses.
Optometrists are medically trained to diagnose:
Cataracts
Glaucoma
Macular degeneration
Conjunctivitis (pink eye)
Other eye emergencies
They can prescribe medications to treat eye diseases and conditions, as well as perform minor in-office surgical procedures such as foreign body removal (something stuck in the eye).
What is an Ophthalmologist?
An ophthalmologist is a physician who specializes in the diagnosis and treatment of eye disorders. Ophthalmologists are both surgical and medical specialists because they perform eye operations.
Many ophthalmologists also participate in scientific research into the causes and treatments of eye diseases and vision disorders. Because ophthalmologists are medical doctors, they can sometimes recognize other health problems that aren't directly related to the eye and refer patients to the appropriate medical doctors for treatment.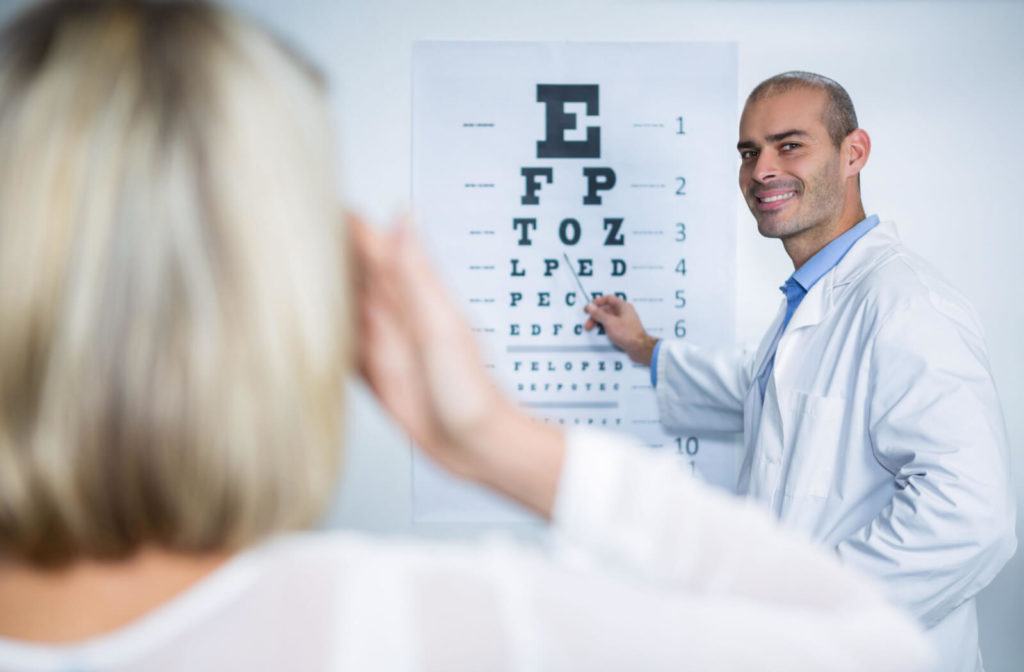 Optometrist vs Ophthalmologist
Education Level
Optometrists and ophthalmologists both attend school to learn about eye health. However, they follow different educational paths and attend school for varying lengths of time.
Optometrists attend a four-year optometry school after earning a bachelor's degree and may complete a year or more of post-graduate residency.
Following their bachelor's degree, ophthalmologists attend a four-year medical school followed by four years of residency. They may also choose to participate in a fellowship training program to specialize in performing specific surgeries or treating specific conditions.
Scope of Care
Optometrists and ophthalmologists can both:
Examine your eyes for health
Diagnose eye diseases, infections, and conditions
Prescribe medication, glasses, and contact lenses
Provide pre and post-operative care
Assist patients in managing their overall eye health
Optometrists, unlike ophthalmologists, do not perform surgery. If you require a surgical procedure, such as cataract removal or glaucoma treatment, your optometrist can refer you to an ophthalmologist.
Which Doctor Should I see?
Many ophthalmologists and optometrists collaborate to provide their patients with comprehensive eye care.
Your annual eye exam should be scheduled with an optometrist once a year. Any abnormalities in the eye, such as
eye infection
pain
fatigue
blurry vision
light sensitivity
excessive floaters
double vision
foreign objects in the eye
or any other cause for concern would also warrant an early visit to an optometrist.
If you need medical or surgical treatment, your optometrist can refer you to a qualified ophthalmologist. If you are experiencing a loss of vision, a change in vision, changes in your physical eye, or changes in your color vision, you should also consult an ophthalmologist.
Some ophthalmologists specialize in areas of care, and you may be referred to one after your eye problem has been diagnosed and the area of treatment has been determined.
Ophthalmology Subspecialties
An ophthalmologist is the only type of doctor who is trained in all aspects of eye care. A general ophthalmologist (also known as a comprehensive ophthalmologist) can diagnose and treat eye diseases, perform eye surgery, and prescribe and fit eyeglasses and contact lenses.
Many general ophthalmologists have additional training to treat specific eye conditions like glaucoma or cataracts. If your comprehensive ophthalmologist discovers that you have a condition that necessitates more specialized care for a specific part of the eye, they will refer you to a subspecialist.
Subspecialists have received extensive training in a specific area of the eye. Ophthalmologists must complete a fellowship in addition to their years of medical training to become subspecialists.
A fellowship trains an ophthalmologist to treat more complex conditions in specific areas of the eye or with specific types of patients. Following graduation from college, fellowship-trained ophthalmologists receive 9 to 10 years of training.
Some subspecialists focus on:
Cornea
Retina
Glaucoma
Pediatrics
Neurology
Whether you're looking for an optometrist or an ophthalmologist, Total Vision can help. We can help you pick a doctor that has been selected for their outstanding ability for care. Contact us today if you have any questions about choosing the right eye doctor.