Choosing an optometrist should go beyond a quick Google search—while the closest eye care clinic may be a short walk or drive away, their doctors may not be the best fit for you and your eye health.
The goal of finding an optometrist is not only to see them for an eye exam once but to integrate them into your healthcare team. Your eye health is connected to your overall well-being, and having an optometrist with whom you can develop a rapport and build trust can keep your eyes and body healthy.
How do you find the best optometrist for you? You should consider their expertise and knowledge, then research to find the optometrist offering the therapy or treatment you need for your specific ocular conditions.
What Do You Need from Your Optometrist?
Optometrists are primary care practitioners for eye health. They manage a wide range of vision care, including the following services:
Eye exams and vision tests
Prescribe and fit contact lenses and eyeglasses
Diagnosis of eye conditions
Minor eye procedures
Post-surgical eye care
Prescribe medication and antibiotics
But what if your needs go beyond essential eye exams? Think about what you and your family need from your eye care and what kind of optometrist you'd like to have.
Specialties
Some optometrists take advanced training, certifications, or fellowships after earning their Doctor of Optometry degree to develop their expertise in a single area. While they can still perform all the standard vision care, they have expanded knowledge to offer their patients.
Dry eye therapy and diagnosis and treatment of eye diseases are common specialties among optometrists, and vision therapy is another specialty to help improve visual skills.
If you have a history of certain eye diseases like glaucoma or cataracts, or your child suffers from amblyopia or lazy eye and requires vision therapy, finding an optometrist with a specialty can ensure you get the eye care you need.
Areas of Interest
Everyone has something they're passionate about, and eye doctors have areas of interest within their practice. A few areas of focus an optometrist may have include:
Low vision
Specialty contact lenses
Pediatric optometry
Myopia control
Vision therapy
Glaucoma treatment
Cataract management
If you're meeting an optometrist for the first time, discuss their areas of interest and decide if your eye care needs pair well with their expertise.
For instance, if you have astigmatism but have been told you have "hard-to-fit" eyes, an optometrist knowledgeable about specialty contact lenses can help you find comfortable contacts to clarify your vision.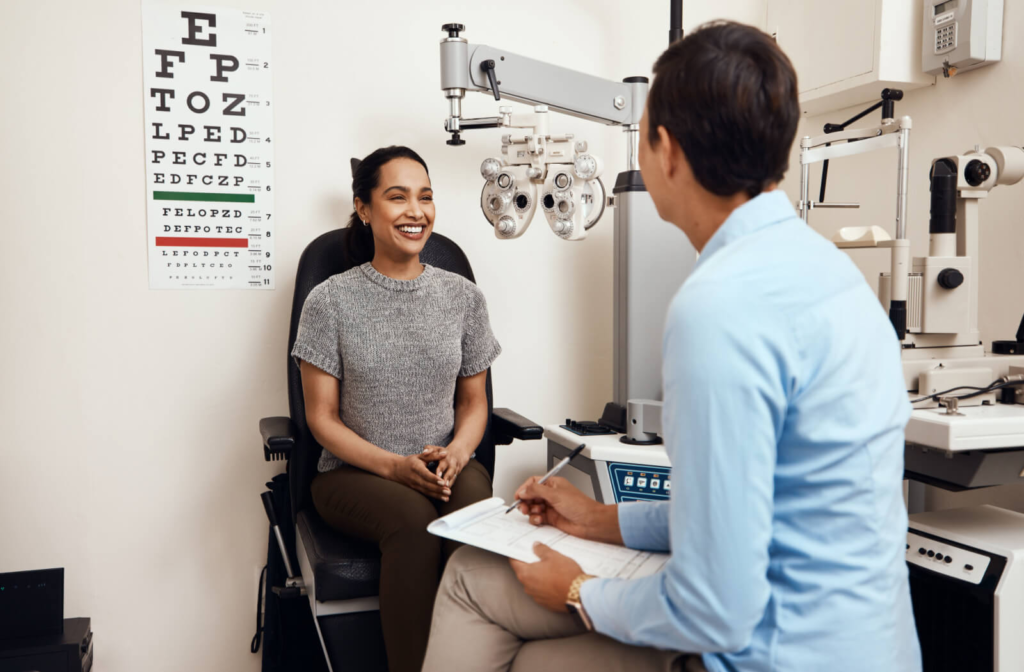 How to Find an Eye Doctor?
Finding a new eye doctor that feels like a good fit can seem overwhelming. Luckily, there are some techniques to aid in your search.
Ask Friends & Family
Whose opinion do you trust more than your friends and family? Ask your loved ones about their optometrist—do they answer questions? Do they explain their findings in an eye exam? Do they have areas of interest?
Information from your network can help start your search for a new optometrist.
Check Online Reviews
When researching optometrists, their reviews are a helpful resource to learn what strangers, and current and past patients, have to say. You can skim the reviews to find mentions of what matters to you, such as dry eye therapy, contact lens recycling, and the doctors' personalities.
Read Optometrist's Bios on Their Website
Website bios can tell you a lot about your optometrist—it's a snapshot of their experience, education, interests, hobbies, and general disposition. By reading bios of doctors recommended to you by friends and family or online reviews, you can find an eye doctor who can treat your eye concerns.
Start Your Search with Total Vision
Your optometrist isn't just someone you see for your annual eye exam; they're a primary care provider to incorporate into your healthcare team. Total Vision has locations in neighborhoods throughout California and doctors with various specialties, interests, and personalities to suit your eye care needs. Begin your search for your new optometrist.