The way you wear your glasses and sunglasses can have an impact on your eyesight and how much protection your eyewear offers. The right frame for protective eyewear is one you will use consistently, and learning how glasses fit your face can help with your overall comfort and satisfaction.
Your glasses fit your face best when sitting high enough up on your nose to not slip off but low enough to not push into your brow or forehead, additionally, your glasses frame width should align with your face width.
When you visit your optometrist for eyewear, they can help you find a comfortable and functional fit based on your unique measurements.
How to Identify the Right Glasses Fit
Glasses should be easy to wear and balanced in all areas that make contact with your face: the bridge of your nose, the top of your head, and behind the ears. They may need a few adjustments before they align with your eyes for the best visual experience.
The most important factor to consider when looking for the perfect pair of glasses is your comfort: when you have comfortable glasses, you're more likely to wear your glasses time and time again. Based on where your glasses sit on your face, you should be able to see clearly through your glasses without distortion or pain.
The frames of your glasses should not slip or pinch on the bridge of your nose. The arms of your glasses should fit snugly around your ears, resting against the temples without putting any strain on your face or ears.
If your glasses have a narrow arch, they may squeeze your nose and sit too high on your nose. If the arch of your glasses is too large, the frames may slide down your face.
Types of Glasses Temples
The area between your forehead and ear is known as your temples, but did you know that your glasses also have temples? Temples, or arms, are connected to the frame of your glasses and extend behind your ears to keep them on your face.
The temples are responsible for a secure fit in your glasses. They should reach behind your ears and offer a secure grip without pinching or straining. Every type of temple exhibits a distinctive style.
Skull Temples
One of the most popular forms of temples for glasses is the skull temple, which looks like a gentle curve at the end of the arm. This curve gives the glasses a hugging appearance that keeps them firmly in place. These can occasionally be adjusted so as to wrap further behind the ear.
Straight Temples or Bayonet Temples
Straight temples, also known as bayonet temples, are frequently found on athletic frames and are perfect for blending in seamlessly with helmets and headgear. Straight temples should gently rest against your head and extend just above the top of your ears. They should not cause uncomfortable pressure.
Cable Temples
Cable temples are the least common style of temple. They are also the safest style, with a pronounced "C" curve that wraps entirely behind your ears.
Cable temples are the most frequently used temple types when minimum frame movement is necessary during extreme sports or work. They are also an appealing option for people seeking a frame with some vintage charm.
Overall, a suitable length is necessary for a good fit because cable temples are not adjustable.
Your Face Shape & Your Glasses
When choosing a pair of glasses, it's good to be aware of the shape of your face and to have some idea of what style you're looking for to help make the purchasing process more seamless. Factors like frame shape, color, and style all come into consideration and may impact your fit.
For square face shapes: Choose thin, round, or cat-eye frames. A square face has an abundance of angular features, such as a strong jawline and a broader forehead. It's suggested to use frames that soften these angles to create complexity and contrast.
For round face shapes: Go for clear or retro cat-eye frames. Those with round faces should opt for simple frames that allow their inherent beauty and charm to come through without adding too many distractions. Something that isn't too aggressive or geometric can soften round faces and draw attention to the eyes.
For heart face shapes: Explore rectangular or cat-eye frames. Heart-shaped faces are admired for their prominent cheekbones and sharply tapering jawlines. People with this face shape typically have a longer chin and a larger forehead. It is recommended to look for frames that are somewhat broader than the brow, as they normally fit better. Styles that swoop upward on the face, such as cat-eye frames, are a good choice.
For oval face shapes: Thin, round frames or medium-sized frames can work well. Oval-faced people are fortunate in that almost any frame will work because their faces are nearly perfectly proportioned. Round or aviator-style frames compliment oval faces since they are slightly wider than the widest region of the face and draw attention to all of the features. Because they can get away with it, those with oval-shaped faces can easily experiment with striking materials or playful shapes.
Signs of a Poor Fit & How to Fix It
If you still have concerns about the fit of your glasses, don't stress! There are a couple of reliable adjustments that can be made that may help your frames work better for you.
Temple Adjustment
If your glasses cause pain at the top of your ears, it could be due to excessive pressure from an incorrect alignment.
Your optician can check to see if the glasses temples are unevenly dispersing weight and causing excessive pressure at a particular location. You may get a more balanced and comfortable fit on your ears after adjusting the temples.
Nose Pad Adjustment
If the nose pads on your glasses create an impression on your nose, they may not be resting at the proper location on your nose. Your nose pads may be sitting either too high or too low.
Try adjusting the nose pads. If the nose pads on your frame aren't movable, then the bridges are probably too big or too small for your nose. If your glasses rub against your cheeks, the nose pads may be too low on your nose.
Headaches from a Poor Fit
If your glasses are causing you headaches, you should speak with your eye doctor. If it's a new prescription, you can anticipate a bit of an adjustment phase. Consider the regularity and intensity of your headaches before discontinuing your prescription. When glasses cause headaches it's most often due to an ill-fitting frame, an inaccurate prescription, or digital eye strain.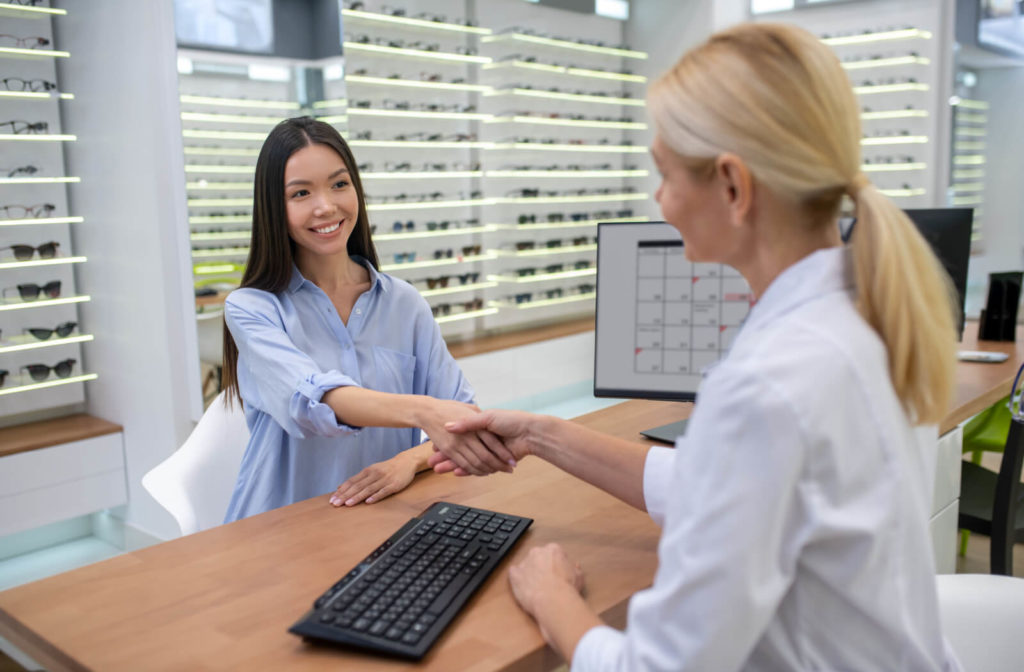 Find Your Perfect Fit
For the best experience finding eyewear that feels comfortable, useful, and appealing, make an appointment or stop by Dr. Henslick Vision Center. If you need help choosing the perfect pair or are unsure how your glasses should fit on your face, our experienced team is happy to help.