Optometry is a dynamic, fast-paced, and growing field. And running an optometry practice takes a lot of work.
Beyond exceptional patient care, operating an optometry practice requires managing employees, handling finances, purchasing equipment or tools, and developing and strengthening relationships.
So, how do you overcome these challenges in caring for your patients and dealing with day-to-day tasks to manage a successful practice?
We provide a list of 10 steps you can follow for successful optometry practice management.
Step 1: Human Resources
Managing and growing an optometry practice involves hiring and maintaining staff. It can include additional optometrists, optometrist technicians, eyewear specialists, and administrators. With more staff, you can provide higher levels of care and treat more patients.
Having a human resources (HR) person or team helps to understand regulations and employment laws. HR also ensures you hire based on your budget and helps choose employees that contribute to the success of your practice.
Step 2: Accounting & Administration
Having an accounting team and using accounting software can help ensure you're submitting invoices on time, meeting payroll deadlines, and keeping your business afloat financially.
Administration can assist with billing, applying payments, and submitting insurance.
Step 3: Marketing
If you want a thriving practice, you should market your business to potential patients. When they're unaware of your offerings, it can make expansion harder.
Investing in marketing does a few things:
It communicates the scope of practice and added services to existing and new customers.
It promotes your business to other professionals, such as eye care or health professionals in your area.
It helps to build relationships with key stakeholders in your profession.
Whether online, by print, direct mail, or word of mouth, it can lead to exponential growth.
When you build a marketing strategy, be sure to use brand consistency across all marketing and advertising platforms.
Step 4: Use Technology
You can use information technology to streamline your practice. You can consider several software tools, including:
Online appointment scheduling software to track bookings, decrease patient wait times, and send reminders to reduce patient no-shows.
Electronic health records (EHRs) and practice management software to manage data and help you and your staff document information.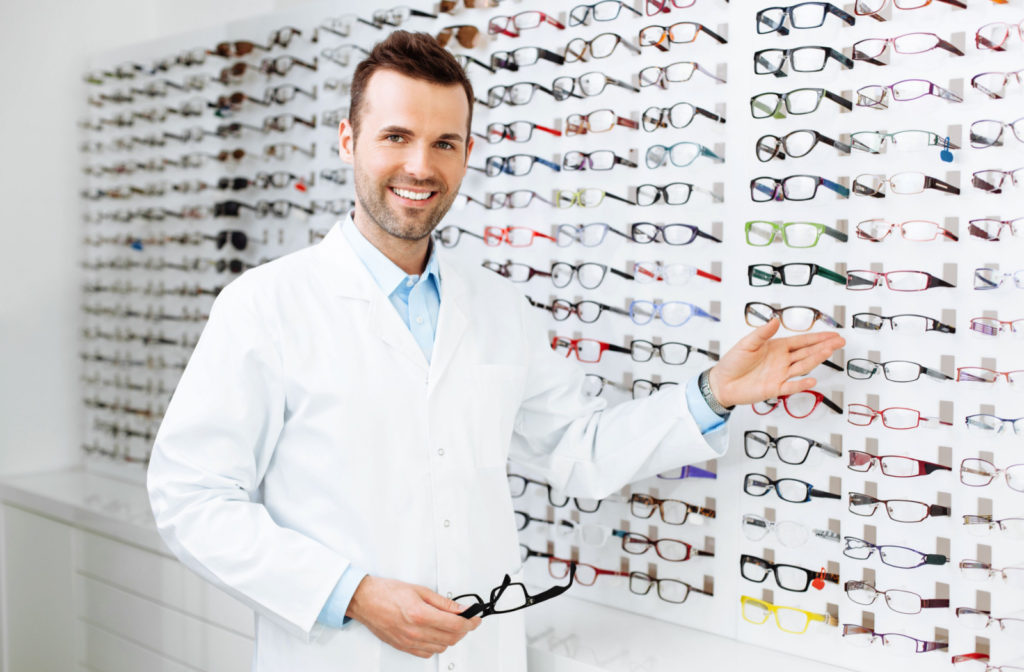 Step 5: Inventory
Buying new equipment and inventory takes time and money when you're contacting suppliers and negotiating prices. Partnering with Total Vision can help provide access to top-tier products and equipment for less.
Delivering more services and catering to a larger target market requires more equipment and instruments. Adding inventory can generate revenue and help pay for the cost.
Step 6: Finances
A plan, goals, and solid financial management skills are necessary to manage a successful optometry practice. Short and long-term financial benefits come from controlling expenses, maximizing profits, and analyzing business results for sustained growth.
Step 7: Customer Service
Customer service is at the front and center of patient care. It's the first and last impression a patient receives.
High-end customer service is:
Effective communication with staff and patients
Training staff on how to interact with patients
Maintaining professional conduct
Implementing policies to accommodate patients
Patient personalization at every communication touchpoint
Encouraging feedback to improve your practice and increase customer satisfaction
Step 8: Staff
As an owner or manager of an optometry practice, the leadership of training often falls on you. Even with highly trained staff, practices, procedures, policies, and tasks can change or need updating.
Regular training and teaching can keep staff up-to-date, knowledgeable, and confident in their ability to care for and educate patients.
Step 9: HIPAA Compliance
The Health Insurance Portability and Accountability Act (HIPAA), sets the standard for sensitive patient data protection. Because most optometry practices use data management systems that contain private information, they need to be secure.
If you don't protect patients' private records, they are vulnerable to data loss, leaks, or potential breaches and cyberattacks. You can invest in software that includes heightened physical, network, and process security measures, and you can add firewalls, anti-malware software, and anti-virus software.
Step 10: Smooth Running, Less Stress
The owner of an optometry practice may have many roles: caring for patients, delegating tasks, managing finances, communicating with staff, and maintaining relationships. However, this can lead to stress and decision fatigue.
When you join and partner with Total Vision, you reduce the number of tasks needed to manage your practice. It helps free up your time and resources so you can provide quality patient care.
Partner with Total Vision
Administration alone can weigh heavily on the management of any optometry practice. But what if you could leave the operations to a management team and focus solely on delivering outstanding patient care? Now you can. We value your partnership. Contact us for more information on joining the Total Vision family.