When it comes to managing an optometry practice—or any business, for that matter—it's important you have a team around you that you can trust. After all, you can't do everything yourself! It's essential for your practice that you do your due diligence when considering potential new employees. Fortunately, there are some key areas to focus on during the application process that can help you make the right decision!
You can make an informed decision about hiring someone new to join your team by communicating openly during the application process, utilizing your network, and focusing on more than just practical abilities.
When you work with partners and a great team who can help you manage the daily operations of your practice, you can focus on providing exceptional care and support for your patients.
1: Communicate Openly
It's important you communicate openly with your potential candidates through every step of the application process. This gives both you and your applicants the chance to clearly lay out your expectations and ask each other any questions. Clarifying any confusion and showing mutual respect can help you both make an informed decision about each other.
Communication can also foster a positive experience between you and your candidates. Listening to their responses and honestly communicating your thoughts can help them feel listened to and respected, which can help increase the likelihood they will leave the room with a positive outlook on your practice.
2: Leverage Your Network
It can help to tap into your professional network when you're considering hiring new staff for your practice. Reach out to colleagues, industry contacts, or similar associations. Leveraging your network can help you obtain valuable referrals and recommendations from experienced people in your industry, which can help increase the odds of finding a qualified and experienced candidate.
It can be helpful to attend events regularly and engage with your local community so you can continue expanding your network even when you're not looking for new staff.
3: Clearly Define Expectations
Taking the time to clearly define your expectations of each candidate can be an invaluable way to narrow down your considered employees. Explaining what skills and qualifications are necessary and how they directly relate to the knowledge needed in the field of optometry can help you find someone who has all the attributes you're looking for.
Clarifying expectations can also give candidates an idea of what their position will be like. You can also learn their level of related knowledge by clearly communicating what's expected of them and listening to their responses.
A detailed job description that highlights exactly what's expected of potential candidates can be helpful. The more information you include, the more likely you are to find a staff member who can support your daily operations well!
4: Be Thorough in Interviews
Interviewing several candidates can be tiring, but at this stage, it's important to be thorough. Don't just read their resume and ask a standardized list of questions—try engaging with candidates to learn more about them. Ask questions that check their technical skills, and inquire about their education and experience.
Using role-playing exercises or case studies during an interview can help you understand how they may react to certain situations. Examples and hypotheticals can also help them learn more about what to expect from the position you're offering.
5: Think About Soft Skills
It isn't just practical skills that determine how well a person performs in their profession. Technical proficiency and knowledge are certainly important, but so are soft skills. A person's ability to empathize with their colleagues, communicate with them, and work together can be an invaluable asset to any business.
And that's not just for working with their colleagues—soft skills can also determine how well they work with patients. Do they seem like the type of person that could build rapport with your patients? Can they actively listen to what others are saying and communicate their thoughts? Soft skills are important. You don't just want to hire a good worker—you want to hire a good person.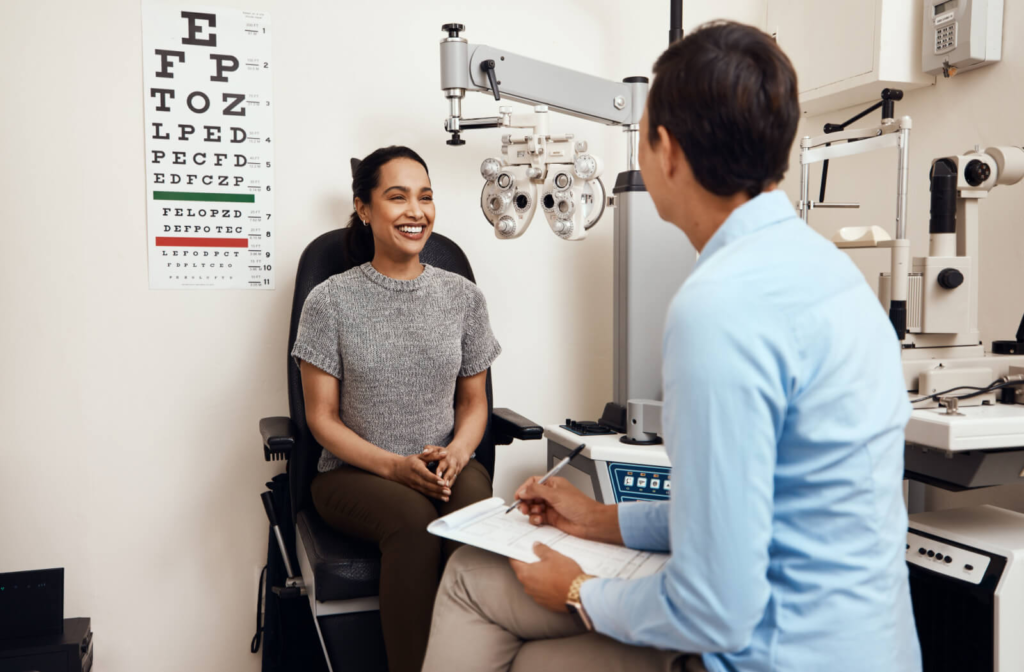 6: Consider the Culture Fit
You and your practice have your own values and culture. Whether you prioritize utilizing advanced technology or fostering a sense of community between you and each and every patient, it's important that potential candidates fit with your culture and values.
After all, they're going to represent you and your business with every interaction, so it's important that they accurately reflect the values of your practice.
7: Check Their Problem-Solving
Optometry is a field involving a lot of complex and unique problems, and there's no one-size-fits-all approach to treating someone's eyes. Potential candidates should be able to critically assess every situation and find appropriate solutions to each challenge presented to them.
Presenting real or hypothetical scenarios about problems that may occur can help give you a chance to evaluate how they work their way through problems and let you determine their ability to make decisions under pressure.
8: Describe What You Offer
It's essential to remember you're not just interviewing them—they're also interviewing you. The decision to work for any employer can be a very serious one, so a candidate is going to want to know that working for you is the right choice. Describing what you offer for members of your team can help show potential staff you actively care about them and you're willing to help take care of them.
It can be difficult working at any level of the medical field, and optometry is no exception. Everybody appreciates extra perks, plans, and amenities that can help make their time more enjoyable. Describing exactly what you offer for your team can help you present an appealing position for talented new employees.
9: Verify Their Referrals
At the later stages of the process, it's important to verify their referrals. Contact the references they provided or their managers from previous jobs. Referrals can give you a chance to understand what candidates are like on a daily basis, their work ethic, and how professional they are. While you may have a good feeling about them, you should always find out what a candidate's referrals have to say.
Validating the information candidates provide can help you gain a well-rounded perspective on what they may be like in your practice and get the information you need to decide if they're the right fit.
10: Go With Your Gut
While there are all kinds of criteria you should use during the selection process, it isn't a guarantee that this person is going to be a perfect match for the job. So at the end of the day, you should go with your gut. During the interview process, you may notice more than you're consciously aware of, and how you feel about a person can be as important as their qualifications.
When hiring someone to help your business grow, trust your instincts. Sometimes their attitude, enthusiasm, or potential can outweigh any shortcomings you may be concerned about.
Support from Total Vision
Implementing these strategies can make a big difference when it comes to hiring the right person. Open communication, thoroughness, and an open mind are vital. Examining all aspects of a person can help you make an informed decision about whether or not they're the right fit for your practice.
Hiring someone is an important decision, and we understand that. If you want more advice about how to hire a great employee and other information about partnering with Total Vision to support your practice, reach out to us today!